Investing in solar energy is an excellent way to save on energy costs, reduce your carbon footprint, and increase your property value. However, choosing the right solar panel installer is crucial for ensuring a successful and efficient installation. With so many solar companies, finding the right one can be challenging. This comprehensive guide will provide tips and considerations to help you choose the best solar panel installer.
Start by asking for recommendations from friends, family, or neighbors with solar panel installations. Their firsthand experiences can provide valuable insights into a company's quality of work, customer service, and reliability. Additionally, conduct online research to find local solar panel installers and read customer reviews to gauge their reputation. Online platforms like SolarReviews and EnergySage can help find reviews and compare multiple solar companies.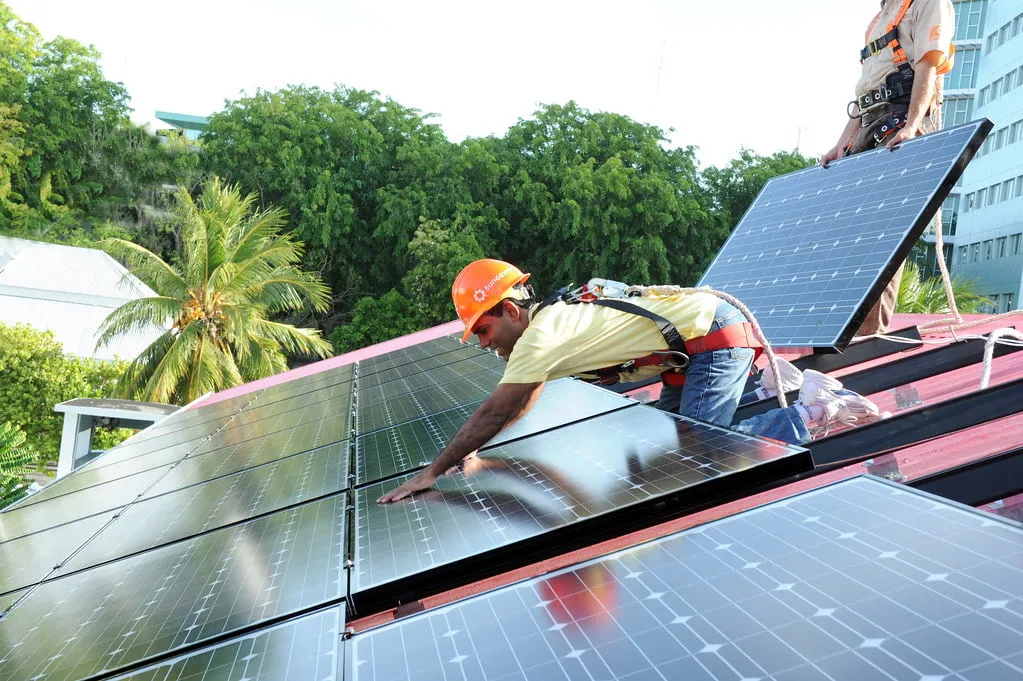 Do Your Homework
Take the time to research each company thoroughly, paying close attention to their track record, the number of installations completed, and any awards or recognitions they may have received in the industry. This information can help you determine which companies have a proven history of success and are more likely to deliver on their promises.
Ensure the solar panel installer you're considering is certified and licensed to operate in your area. Look for certifications from reputable organizations such as the North American Board of Certified Energy Practitioners (NABCEP) or the Solar Energy Industries Association (SEIA). These certifications indicate that the installer has undergone specialized training and adheres to industry best practices.
In addition to certifications, verify that the installer is properly licensed to perform solar installations in your state. Licensing requirements vary by location, so check your state's specific regulations. A licensed installer will know local permitting requirements and building codes, ensuring a smooth and compliant installation process.
Compare Multiple Quotes
Obtain quotes from at least three different solar panel installers. This will help you compare prices, services, and warranties, allowing you to make a more informed decision. When comparing quotes, pay attention to the cost breakdown and any additional fees that may be included, such as permit fees, equipment costs, or labor expenses.
Don't be swayed solely by the lowest price. A significantly lower quote may indicate inferior equipment or workmanship. It's essential to evaluate each proposal's value by considering factors such as the quality of the equipment, the installer's experience, and the warranties offered.
Different solar panel installers may offer various equipment options and brands. Research the solar panels, inverters, and mounting systems they propose to ensure they are high-quality, reliable, and have good warranties. Ask the installer about the advantages and disadvantages of each option and how they would suit your specific needs.
In addition to researching equipment, consider the installation company's relationship with the manufacturers. Companies that have strong partnerships with reputable manufacturers may have access to better pricing, more responsive support, and faster warranty claims processing. This can provide added peace of mind and ensure a better overall experience.
Review Warranties, Guarantees, and Experience
A good solar panel installer will offer robust warranties and guarantees for their work and the equipment they install. Ensure the company provides a workmanship warranty of at least one year and manufacturer warranties for the solar panels, inverters, and other components. These warranties can protect you from potential issues down the line.
Some companies may also offer performance guarantees, ensuring that your solar panel system will produce a certain amount of energy over a specified period. This can assure your system will deliver the expected savings and environmental benefits.
Effective communication and customer service are essential throughout the solar panel installation process. Ensure the installer is responsive, answers your questions clearly, and provides regular updates on the project's progress. This can help ensure a smooth installation experience and help build trust between you and the solar company.
Consider the company's post-installation support as well. Will they be available to answer questions, troubleshoot issues, or assist with maintenance and repairs? A solar panel installer that offers ongoing support can be invaluable in ensuring your system continues to operate optimally for years to come.
Choose a solar panel installer with a solid track record and years of experience in the industry. Experienced installers are more likely to be knowledgeable about the latest technologies, installation techniques, and industry trends. Ask the installer for references or case studies of previous installations to assess their expertise and performance.
Additionally, look for a company specializing in the type of solar panel installation you need, whether residential, commercial, or off-grid. This specialization can ensure the installer is well-versed in your specific project's unique challenges and requirements.
Evaluate Financing Options
If you're planning to finance your solar panel system, it's essential to choose an installer that offers a variety of financing options, including loans, leases, and power purchase agreements (PPAs). Each financing option has its advantages and disadvantages, so discuss these with the installer to determine the best choice for your financial situation and preferences.
Assess Customization and Flexibility
Every home or property is unique, and your solar panel installation should be tailored to your specific needs, goals, and site conditions. Choose an installer who evaluates your property, energy usage, and goals to design a customized solar panel system that will maximize your investment's return.
Avoid installers that push a one-size-fits-all solution or try to upsell you on unnecessary equipment or features. Instead, look for a company that listens to your needs and offers tailored solutions to help you achieve your solar energy goals.
Evaluate the Installer's Commitment to Sustainability
As you're investing in solar energy to promote a more sustainable lifestyle, choosing a solar panel installer that shares your commitment to sustainability is essential. Research the company's environmental policies, involvement in community projects, or partnerships with green organizations. By choosing an installer that actively supports sustainability, you can feel confident that your investment aligns with your values.
Wrapping Up
Choosing the right solar panel installer is crucial in your solar energy journey. Following these tips and considerations, you can find a reputable, experienced, and reliable installer to help you achieve your solar energy goals. Remember to seek recommendations, research certifications, compare quotes, evaluate equipment, review warranties, assess customer service, verify the installer's experience, evaluate financing options, assess customization and flexibility, and evaluate the installer's commitment to sustainability to make the best decision for your solar panel installation.